Continued Professional Certification (CPC) Assessment
The CPC Assessment will assess knowledge in the four core domains of nurse anesthesia practice. You will take a CPC Assessment (CPCA) once every 8-year CPC Program period--taken in your second 4-year cycle. Most CRNAs will take their first CPC Assessment either in the 2020-2024 or 2021-2025 CPC cycle, depending on your certification schedule.

The CPCA is a performance standard assessment, not a pass/fail exam. It assesses your knowledge in the four core areas of nurse anesthesia practice:
• Airway Management
• Applied Clinical Pharmacology
• Human Physiology and Pathophysiology
• Anesthesia Equipment, Technology, and Safety

It is closed book and you are given three hours to answer 150 questions. See the Assessment Overview page.
Check out the CPCA TOOLKIT for information and study resources including videos, practice exams, videos, infographics, the CPCA Content Outline, and more.
Timing
The first testing window will be August 2021, but there will be another testing window in November and multiple CPCA testing windows each subsequent year. The CPC Assessment application window will open July 1, 2021. Ready to schedule? Log in to the NBCRNA portal and click on Applications.
Scoring
Because the CPCA is not pass/fail, it does not impact your certification. It is designed to provide feedback on your strengths and weaknesses in different knowledge areas. Scores are measured against a defined performance standard to identify any areas where additional study is needed.

Flexible Testing Options
You choose where to take the CPCA--either online in your home or another preferred setting, or at a testing center. It can be taken in any open testing window in your second 4-year cycle (during application/testing windows). *You are eligible to take the CPC Assessment when your CPC application to renew your credential (for your first 4-year CPC cycle) is approved and your credential expiration date is before 6/30/2025.
Watch these videos to find out more about deciding the best way to test or what to expect on test day.

Cost
The cost of the CPCA is $295 and it is taken once every eight years.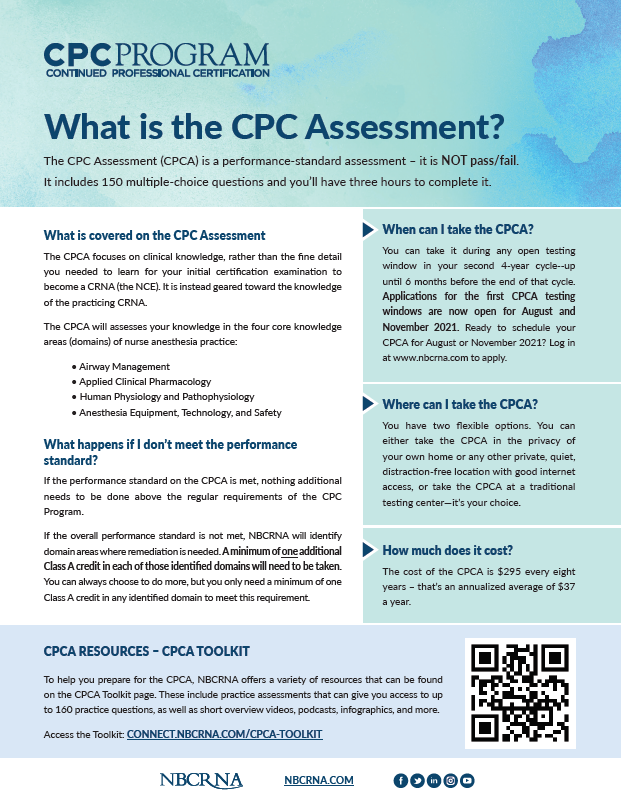 Find the Answers You're Looking For
Download the CPCA flyer for quick overview of the CPC Assessment.