Nonsurgical Pain Management Examination
In response to challenges continually faced by many nurse anesthetists who practice nonsurgical pain management (NSPM), the NBCRNA developed a voluntary subspecialty certification for nurse anesthetists in Nonsurgical Pain Management (NSPM-C) in 2014. The NSPM credential program measures the knowledge, skills, and abilities of NBCRNA-certified registered nurse anesthetists for practice in the NSPM field. It requires advanced, subspecialty knowledge beyond that required for initial certification of nurse anesthetists.
Nurse anesthetists who are currently certified by the NBCRNA and meet other specified criteria are eligible to apply for NSPM certification. The NSPM exam is a computer-based assessment, featuring 150 multiple-choice questions and three clinical-scenario items. The total time allowed for the examination will be 240 minutes, or four hours; three hours are allotted for the multiple-choice section and one hour for the clinical scenario section. It is typically offered twice per year at test centers in the U.S. This certification is time-limited and must be renewed.
Those who meet the criteria for the NSPM subspecialty certification and wish to pursue the certification can apply to take the exam during the window dates below.
Total Number of NSPM Cer
tificants
Congratulations to the 16 new NSPM-C credential holders who were newly certified in December 2020! Since the inception of the NSPM program in 2015, 105 CRNAs now hold the NSPM-C credential. The overall pass rate is 90.8%. The most recent exam application window took place 9/21/2020 – 10/16/2020 and testing occurred 11/23/2020 - 12/7/2020. See the below table for upcoming application and testing dates in 2021.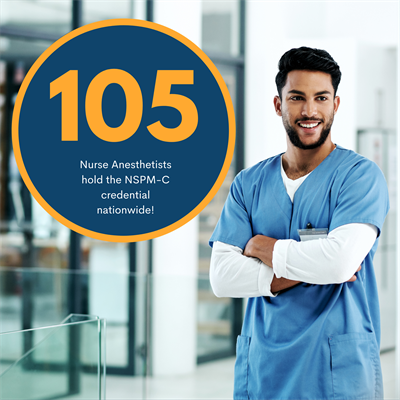 Application Windows for NSPM Exam- 2021

If you are planning to take the NSPM Examination, contact NBCRNA at NSPM@nbcrna.com or (855) 285-4658 to have an application activated.

Upcoming 2021 NSPM Examination dates:
Applications for Exam

Accepted

Test Dates

5/24/2021 - 6/11/2021
7/12/2021 - 7/26/2021
9/27/2021 - 10/18/2021
11/19/2021 - 12/13/2021
---
The NBCRNA's Nonsurgical Pain Management (NSPM-C) credential program is accredited by both the National Commission for Certifying Agencies (NCCA) and the Accreditation Board for Specialty Nursing Certification (ABSNC).