NBCRNA Certification
The mission of the NBCRNA is to promote patient safety through credentialing programs that support lifelong learning.
National Certification Examination (NCE)
For FY 2017, a total of 3,120 NCE exams were administered, with a pass rate (for first-time takers) of 82.6%; the pass rate is lower for repeat examinees. The total number of candidates who took the NCE and were certified during FY 2017 was 2,467. A list of the newly certified CRNAs by state of residence is published monthly here on the NBCRNA website. See more information about the NCE on the NCE Resources page.
Self-Evaluation Examinations (SEE)
A total of 3,849 SEE were administered in FY 2017. See more information about the SEE on the SEE Resources page.
Total Number of Certificants FY 2017
As of Aug. 31, 2017 (end of fiscal year 2017), there were 49,746 certified registered nurse anesthetists ("certificants"). 2,437 were newly certified nurse anesthetists.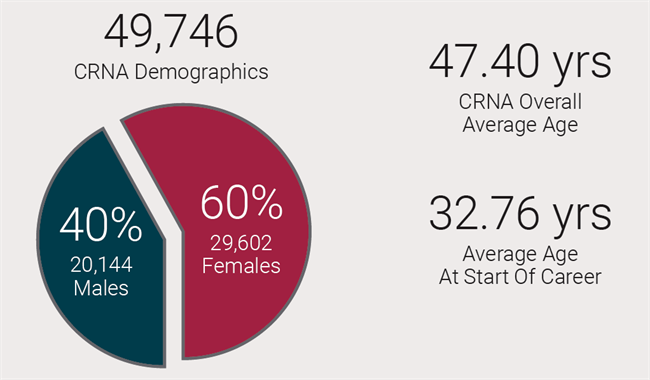 Want to find out more about the Continued Professional Certification (CPC) Program? View videos, FAQs, and many more resources, on the
Continued
Certification/CPC
page.
---
Announcements
The Program Administrator's Guide to Student Management is now available. Click on the link below to access the guide.