NBCRNA Certification
The mission of the NBCRNA is to promote patient safety through credentialing programs that support lifelong learning.
National Certification Examination (NCE)
For FY 2018, a total of 3,053 NCE exams were administered, with a pass rate (for first-time takers) of 84.3%; the pass rate is lower for repeat examinees. The total number of candidates who took the NCE and were certified during FY 2018 was 2,448. A list of the newly certified CRNAs by state of residence is published monthly here on the NBCRNA website. See more information about the NCE on the NCE Resources page.
Self-Evaluation Examinations (SEE)
A total of 4,190 SEE were administered in FY 2018. See more information about the SEE on the SEE Resources page.
Fees Effective January 1, 2019
New NCE Fee $995 (also applies to repeat fee) (The NCE is different than the CPC Assessment)
New SEE Fee $250
For the past 11 years—since 2009, the NCE initial exam fee of $725 and repeat exam fee of $625 have remained unchanged. The same holds true for the SEE for the past three years since its realignment with the content outline of the NCE. After years of remaining stable while costs to produce these important credentialing resources continued to rise, an adjustment was needed to support the complex management and delivery of the two exams. It was consequently announced that a new NCE and SEE fee schedule will take effect beginning January 1, 2019.
It takes a great deal of resources, technology and expertise to develop and support these highly specialized testing programs. Below are some of the many expenses that accompany that work:
Both exams utilize computer adaptive technology and require large item banks with dynamic content.
As with all psychometrically sound and defensible examinations, the NBCRNA is required to conduct periodic Practice Analyses, Standard Settings, and Item Analysis reviews. While much of this effort is completed by volunteers there are still substantial costs associated with this important work, which continue to increase annually.
Some costs associated with test development and delivery include holding working item-writing meetings (which involve travel, lodging and other costs), staff salaries for the testing professionals needed to manage the volunteers and their work products, and updates to the specialized Item Banking software and computer interface that allow us to securely and efficiently manage these materials.
Additional testing-related costs including NBCRNA support staff, testing center costs, and fees for our exam integrity vendor.
While efforts are always exercised to control costs, a fee increase was required to effectively continue this high-quality work. By sharing the outlined expenses, we hope to provide a clear rationale for the increased exam cost after nine* years of unchanged fees.
*for NCE; two years for SEE
Total Number of Certificants FY 2018
As of Aug. 31, 2018 (end of fiscal year 2018), there were 52,176 certified registered nurse anesthetists ("certificants"). 2,602 new students enrolled during Fiscal Year 2018.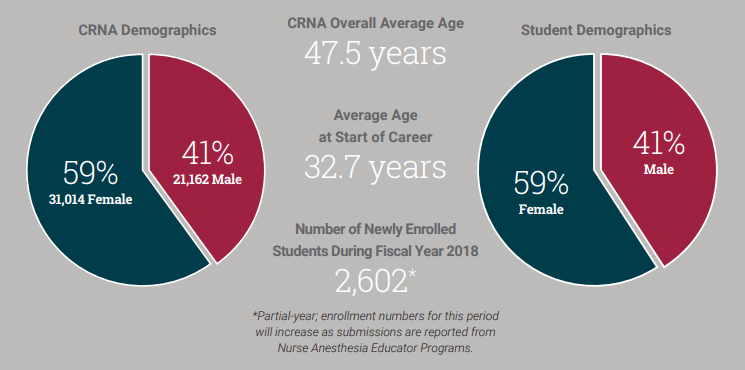 Want to find out more about the Continued Professional Certification (CPC) Program? View videos, FAQs, and many more resources, on the Continued Certification/CPC page.