Feb. 2019 - NBCRNA announces changes to the CPC Assessment. Learn more.

The CPC Assessment Beta Research Study has concluded. Read more about the study and results.

Here for your 2-year Check-in? To start , log in by clicking on the green login button at the top of this website.
Here for information on the 2-year Check-in? Go to the 2-year Check-In page.
----------------------------
All CRNAs will participate in the NBCRNA's Continued Professional Certification (CPC) Program which launched in 2016 and replaced the former "recertification" program. This program is designed to promote lifelong learning, help you maintain the currency of your anesthesia knowledge and encourage patient safety. It was developed in response to changing accreditation requirements, changing needs within the health care environment, the increasing role of CRNAs in the health care scene, as well as technology changes. Your CRNA credential is valued throughout the health care field and NBCRNA wants to partner with you to help you maintain your credential throughout your career.
The CPC Program is based on 8-year periods comprised of two 4-year cycles. In addition to earning Class A (assessed CE) and Class B credits (professional development), and taking optional Core Modules (optional in this first 4-year cycle; required thereafter/beginning in 2020/2021), the next step in the CPC Program is the 2-year Check-in. The Check-in window for most CRNAs that recertified or originally certified in 2017 opened on April 2, 2019. The deadline for this same group of CRNAs will be July 31, 2019. Find out more on the 2-year Check-In page including a deadline chart. Additional information and resources for the CPC Program can be found throughout this CPC Program section of the website.

Learn more about the value of the CRNA credential here.
The CPC Program consists of 8-year periods, and each period is comprised of two 4-year cycles. Every two years CRNAs will check in through a simple, online process known as the 2-year Check-In.
In addition to practice and license requirements, the CPC Program includes these main components: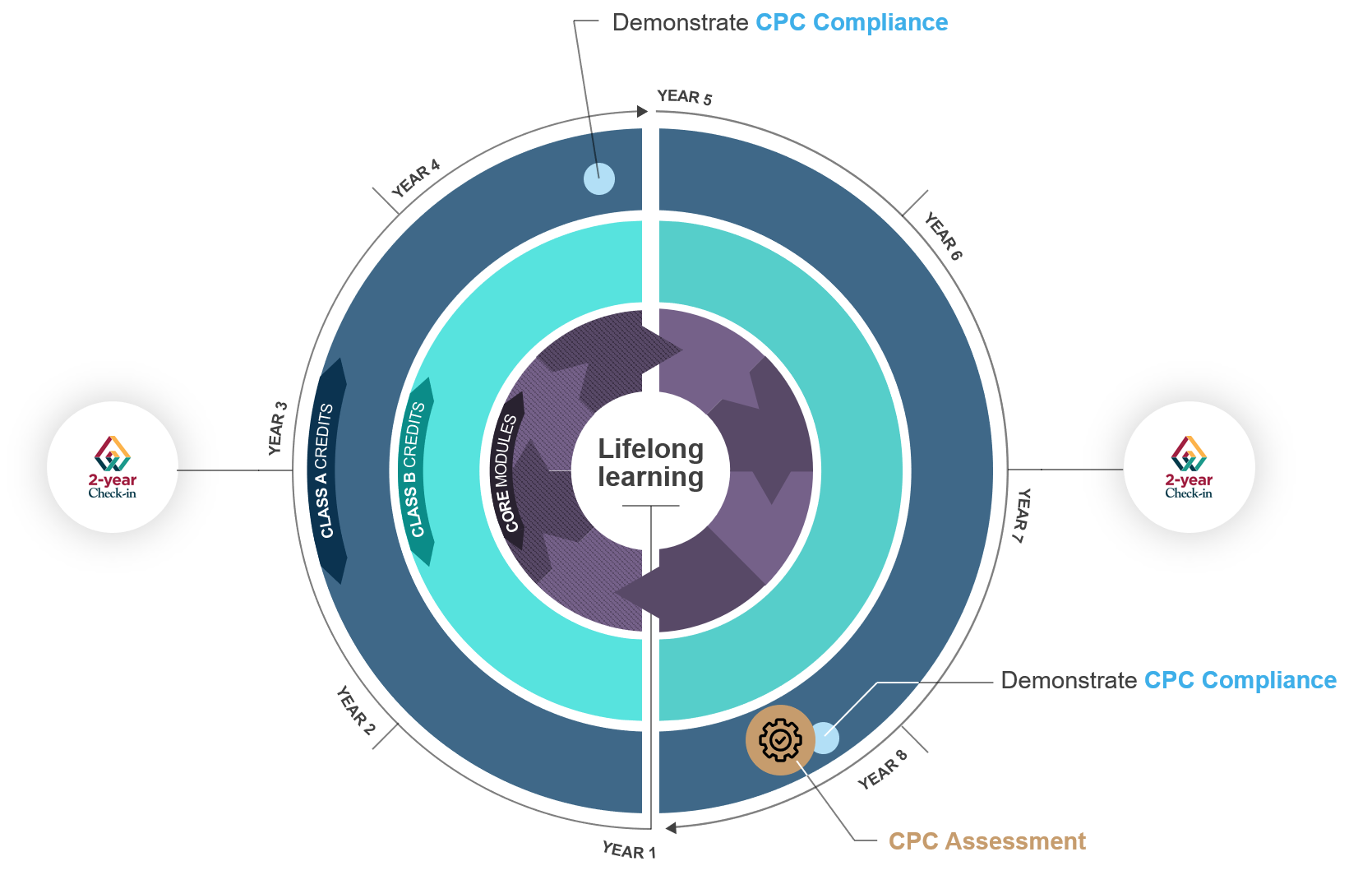 NBCRNA Evaluating Alternatives to the CPC Assessment
In fall 2018, the NBCRNA conducted a Beta Research Study on the CPC Assessment (CPCA). The study evaluated performance in six different testing environments to determine how these different environments could help achieve the goals of the CPC program in a way that is fair and reliable for all certificants. The percentage of examinees in the study that met the performance standard was 95%. Find out more about the study and results.

Credential Verification for your SBON

Visit the SBON Credential Verification page to view the steps on how to obtain credential verification for your State Board of Nursing. The credential verification request must be made after receiving the recertification confirmation of approval email from the NBCRNA.