Value of CPC
The CPC Program underpins and reinforces the validity and value of your CRNA credential. It demonstrates to your patients, their families, your employers, and regulatory authorities that you are remaining up-to-date even as the health care environment constantly changes.
How do I benefit?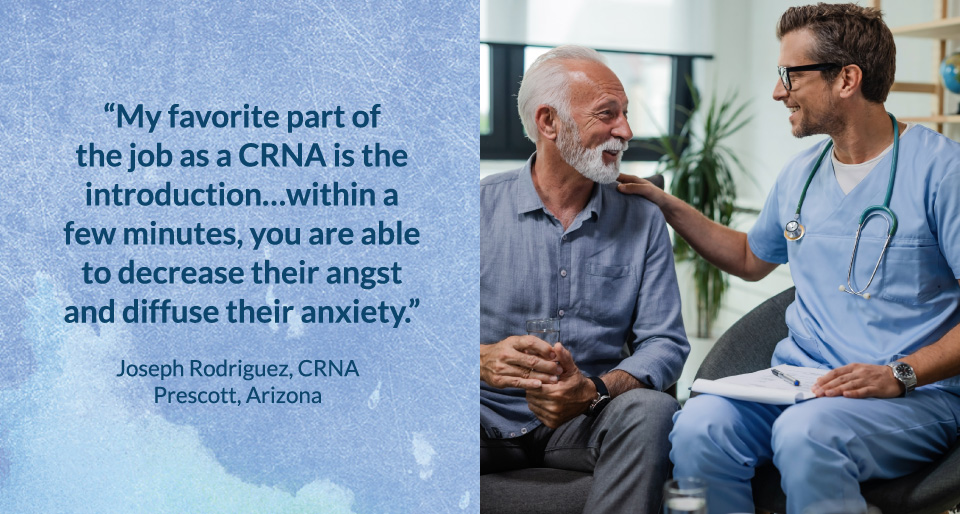 The CPC Program is designed to protect your ability to continue practice by meeting the requirements of every state Board of Nursing in the country.
It also provides numerous other benefits that help you advance your career and deliver the quality patient care you take pride in:
Confidence that you are participating in evidence-based ongoing learning
Universal recognition that you are a highly skilled professional committed to lifelong learning
Assurance you aspire to the highest quality standard of practice, now and into the future
Confirmation that you are engaging in activities designed to help you remain up-to-date with leading practices and trends
Objective validation of your compliance with the credentialing requirements accepted by state Boards of Nursing and other external authorities for practice authorization
Build Pride.
"A CRNA is a proud professional who helps restore someone's comfort, alleviating their agony and pain with utmost respect to the patient's dignity and values, basing the care on compelling scientific knowledge and delivering the most advanced care."
— Ahmed Alshaarawi, MS, CRNA, Faculty Instructor, CRNA Oregon Health and Science University
Strengthen Trust.
"The CRNA credential is a recognized and trusted title, and a public promise of excellent, safe, and high value care."
— William Prosser, DNAP, MSN, CRNA, Staff CRNA, Peace Harbor Medical Center
Add Value.
"Maintaining CRNA credentials helps support our profession and visibility of the important work we do. We provide not only safe care to our patients but care on an unparalleled level."
— Jennifer Brady, DNP, CRNA, Staff Nurse Anesthetist, Fort Campbell, KY
Why CPC?
The CPC Program ensures your CRNA credential complies with the time-limited certification requirements mandated by NBCRNA's national accreditors, NCCA and ABSNC, and The Consensus Model for APRN Regulation, Licensure, Accreditation, Certification and Education. The accreditors (and the model) no longer accept the concept of "once certified, always certified."
Developed after a multi-year exploration of the latest literature, benchmarking, and professional practice analysis, the CPC Program integrates input from thousands of nurse anesthetists.
The CPC Program is designed to:
Protect and enhance the value of your CRNA credential

in light of new evidence reshaping credentialing standards in health care specialties
Demonstrate the validity of your CRNA credential to employers as well as state and federal regulatroy authorities.

Instill confidence in patients and family members

that CRNAs have the knowledge and skills to continue to provide safe, high-quality care in a constantly evolving health care environment