New: Emerging Leader Fellow Announced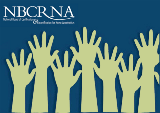 The NBCRNA welcomes Michael Rucker, DNP, CRNA, LCDR, NC, USN, to the NBCRNA board of directors as the new Emerging Leader Fellow. Dr. Rucker is a Lieutenant Commander in the US Navy and is a CRNA practicing as Assistant Clinical Site Director for the Uniformed Services University Nurse Anesthesia Program clinical site at Naval Medical Center, Portsmouth, VA (NMCP). He will begin his one-year position in September 2019.
Emerging Leader Fellow Job Responsibilities and Commitment to Serve
Video: Meet the Board - Lori Anderson, DNP, MSN, CRNA
Board Director Lori Anderson is an Assistant Professor in the Nurse Anesthesia Department at Rosalind Franklin University. She also provides anesthesia services in a Level-I Trauma center in Rockford, IL. Lori earned her BSN and MSN from Northern Illinois University, DeKalb, IL, and her DNP from Rush University. She was a past president of the Illinois Association of Nurse Anesthetists and a member of the Illinois Board of Nursing. See More at our Youtube channel!
Video: Meet the Board - Susan McMullan, PhD, MSN, CRNA
Board Director Susan McMullan is an Associate Professor and Nurse Anesthesia Specialty Track Coordinator at the University of Alabama at Birmingham (UAB) School of Nursing. She earned her BSN from University of Michigan, her MSN in Nurse Anesthesia from Rush University, and her PhD from Rutgers, the State College of New Jersey. Prior to her move to Birmingham, she worked full time as a clinical CRNA in Chicago. She has previous academic experience at Rush University Graduate College of Nursing and at Rosalind Franklin University of Medicine and Science. In her current role, Susan manages day-to-day operations of the Nurse Anesthesia program. She also developed a new doctoral curriculum, and transitioned the Nurse Anesthesia Specialty Track from the Master's to Doctor of Nursing Practice outcome degree. Susan maintains a clinical faculty practice at UAB Callahan Hospital. Susan is a 2017 American Association of Nurse Anesthetist Post-Doctoral Fellow and 2016 UAB School of Nursing Dean's Scholar Award recipient for her research on CRNA workload and patient safety. See More at our Youtube channel!
Video: Meet the Board - Jessica Kubisch, DNAP, MS, CRNA
Emerging Leader Fellow Jessica Kubisch practices anesthesia at a critical access hospital in rural Oregon, where she provides compassionate, evidence-based anesthesia care for surgical, emergency and obstetric patients. Prior to this, she worked at Medstar Georgetown University Hospital as a Staff CRNA and clinical site faculty for Georgetown University's Nurse Anesthesia Program. Jessica received her BSN from Franciscan University, is a graduate of Georgetown University where she received her MSN, and obtained her DNP from Virginia Commonwealth University. Her critical care experience was completed in the Pediatric ICU at UCLA Medical Center. Currently, she is involved in implementing enhanced surgical care and recovery pathways, as well as developing a program to utilize high-fidelity simulation for interdisciplinary crisis resource team training in the operating room. Jessica enjoys medical mission work and actively serving in community and professional organizations. See More at our Youtube channel!