Call for Board Applications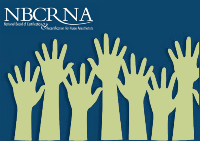 In November 2017, the NBCRNA held an open call for board position nominations. Thank you for the many excellent submissions. The application window closed on November 27, 2017.

The Board of Director position will join the volunteer members of the Board of Directors that governs the NBCRNA credentialing programs. This will be a three-year term, beginning August 2018. Review of applications, followed by interviews will occur over the coming months. An announcement will be made March 1, 2018.
---
Previous Board Election Results
The NBCRNA is pleased to announce that Rishelle Zhou, MS, LLB, CRNA, was elected as an Emerging Leader Fellow on the NBCRNA Board of Directors. Rishelle works for the VA Portland Health Care System and has previously served on the NBCRNA Item Writers Committee. She joins the Board's other Emerging Leader Fellow, Christopher Gill, CRNA, MS , who accepted re-appointment to a new term. Rishelle and Chris began their terms in September 2017.
The NBCRNA also welcomes Stephen Klinkhammer, DNP, MNA, MBA, CRNA and Dennis Spence, PhD, MS, CRNA who were elected as Directors to the NBCRNA Board of Directors. Their terms also began in September 2017.
Read more about the current NBCRNA Board here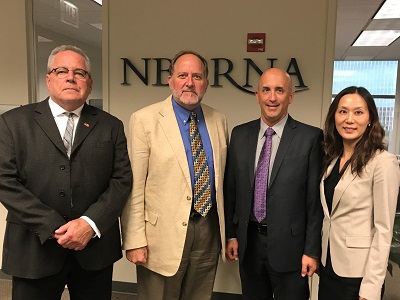 In July 2017, NBCRNA President Steve Wooden greeted incoming (FY 2018) NBCRNA Board members at the New Board Orientation. Pictured here from left: Stephen Klinkhammer, Steve Wooden, Dennis Spence, and Emerging Leader Fellow Rishelle Zhou
Video: Rishelle Zhou, MS, LLB, CRNA
Rishelle has been a Staff CRNA and Clinical Instructor at the VA Portland Health Care System in Portland, OR, since 2014. After earning a law degree from Shanghai University, China, she worked in DNV-GL, an internationally accredited certification and classification society. In 2002, she moved to Honolulu and started her nursing education at the University of Hawaii where she earned a BSN from the Oregon Health and Science University in 2008 and her master degree from Kaiser Permanente School of Anesthesia/California State University Fullerton in 2012. See More at our Youtube channel!
Video: Dennis Spence, PhD, MS, CRNA
Dr. Spence practices anesthesia, is a clinical researcher, nurse anesthesia educator, and Institutional Review Board Chair at a large academic medical center in Southern California. He is a graduate of Rush University (PhD 2008), Georgetown University/Navy Nurse Corps Anesthesia Program (MS 2001), and the University of Texas Health Science Center San Antonio (BSN 1994). He is an Adjunct Associate Professor at the Uniformed Services University of the Health Sciences Graduate School of Nursing. See More at our Youtube channel!
Video: Stephen Klinkhammer, DNP, MNA, MBA, CRNA
Dr. Klinkhammer received his Master of Nurse Anesthesia from the Mayo School of Health Sciences, Rochester, MN, and his Doctor of Nursing Practice from Rush University, Chicago, IL. Dr. Klinkhammer has provided anesthesia care in multiple settings including military, government, academic and private practice. He presently provides office-based anesthesia services in the southeast Wisconsin area. See More at our Youtube channel!