NBCRNA Associated Organizations
The NBCRNA networks and interacts with various organizations throughout the year on credentialing, certification, and testing-related matters. These relationships provide valuable information-sharing opportunities, as well as visibility of our profession and credential. The NBCRNA regularly works with the American Association of Nurse Anesthetists (AANA), the AANA Foundation, the Council on Accreditation of Nurse Anesthesia Educational Programs (COA), and the Citizen Advocacy Center (CAC) on joint projects.
We continually work to further strengthen the credential and to build more choice and convenience into a certification process that is based on standards that everyone can trust. Below are some of the joint projects and messaging.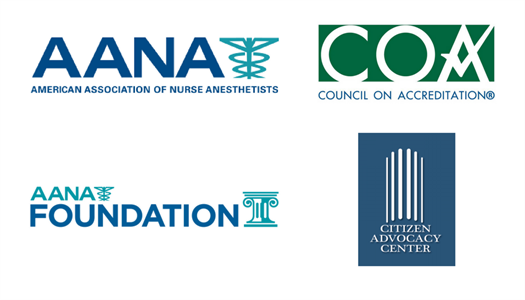 The NBCRNA and AANA have collaborated on various communications in support of the profession.
NBCRNA and AANA Working Together
NBCRNA and AANA signed a Memorandum of Understanding governing the alternatives for assessing CE credits under the Continued Professional Certification (CPC) Program.
The NBCRNA, COA, and AANA sent a joint letter of support to the U.S. Department of Veterans Affairs for their recognition of CRNAs and APRNs full scope of practice.
The NBCRNA and AANA have signed a summary of understandings reached between the Executive Committees of the two boards.The complete document has been provided below.
OTHER ASSOCIATED ORGANIZATIONS
American Board of Nursing Specialties (ABNS)

Accreditation Board for Specialty Nursing Certification (ABSNC)
Association of Test Publishers (ATP)
Institute for Credentialing Excellence (ICE)

National Commission for Certifying Agencies (NCCA)
National Council of State Boards of Nursing (NCSBN)