Working Together to Inform Your Constituents
---
Welcome, State Associations!
As a statewide professional organization, you are the home to thousands of Certified Registered Nurse Anesthetists (CRNAs) in your state. The NBCRNA recognizes the important role you play in connecting your state's CRNAs with each other and with the broader nurse anesthesia community, sharing valuable information related to their practice. We developed this State Association Toolkit page to provide valuable READY-TO-USE content and resources you can share on your state association website for your members.
Be the go-to resource for your members. Especially in these unprecedented times, your state association has an opportunity to provide even more valuable resource for your members who are looking for relevant information on what's happening in your state and in the profession that impacts them.
The State Association Toolkit provides ready-to-use resources and materials you can directly add to your: website, newsletters, mailings, and social media and other digital communications. It also includes accurate, easy-to-understand information about the CPC Program and next steps in the certification renewal process,
The Toolkit Includes:
Videos

– Add links to these CPC videos which offer a clearer understanding of every aspect of the CPC Program

Downloads

– (brochures, etc.) Add these to your website for your members to reference or print

Pre-written articles

– Need an article for your newsletter, website or blog? Use these!

Social media posts

– Keep your social media fresh and relevant with these posts

Logos

– NBCRNA and CPC Program logos

Read below for more

and link them on your state association website!
The Continued Professional Certification (CPC) Program
---
Your Members' Next Steps
The 2021 CPC Applications for certification renewal are open for CRNAs due to renew their certification by July 31, 2021. Those who recertified or initially certified in 2017 will be reaching the end of their first 4-year CPC Program cycle and have received reminder emails and postcard notices from the NBCRNA to complete their CPC Program renewal. CRNAs can still log in to the portal on the NBCRNA home page to begin the application process. CRNAs will be eligible to complete their CPC Assessment application upon completion of their first 4-year CPC cycle.
Some CRNAs have expressed uncertainty as to when they are due to complete their certification renewal. Help your members understand their exact steps and timing by including resources from this State Association Toolkit on your website. You can also send your members directly to the newly updated CPC page of the NBCRNA website where they will find helpful resources there.
The Continued Professional Certification (CPC) Program supports lifelong learning and the strong CRNA credential. Share accurate and easy-to-understand CPC Program resources and credential-related news from NBCRNA with your constituents.
The NEW CPC Infographic provides a simple checklist to learn more about what CRNAs need for their CPC cycle. Download the checklist and share in your next social post! DOWNLOAD NOW >>
CPC Resources and Tools for Your Website
---
CPC Assessment (CPCA) Downloadable Resources and Links
Year-Round CPCA Scheduling Now Available
NBCRNA worked with Pearson to make the CPCA available year-round, either in-person at a Pearson VUE center or online through Pearson OnVUE. All you need to do is complete the CPCA application via the NBCRNA portal, and then schedule the CPCA at the date and time that is most convenient for you.
All CRNAs will have to take the CPCA at least once in its current form at least six months before your credential renewal deadline. To see your personalized CPC Program Timeline, log in to the
NBCRNA portal
.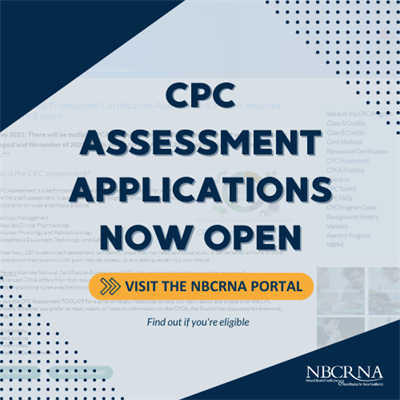 NEW Question of the Week (QOTW) Booklets
Your members will be taking the CPC Assessment (CPCA) by the end of their second 4-year CPC Program cycle (by 2024/2025), but can opt to take it during any open window in those second four years. Help them test their knowledge with the new downloadable QOTW booklets! Inside these booklets, they will find 13 questions from the weekly Question of the Week on social media, that will help them get familiar with the question types and content they will find on the CPCA.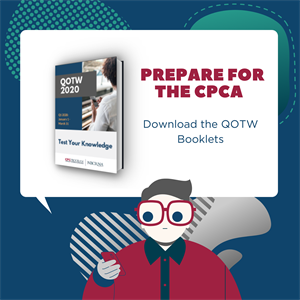 Downloadable CPC Resources for Your Website
Click below to download and share these key CPC resources and tools on your state association's website, social media or newsletters!
NEW CPC Poster
The new CPC poster clearly and simply describes the CPC requirements, timeline and steps, providing a straightforward, visual overview of the program. Many CRNAs have already shared the poster with their colleagues by hanging in their facility breakroom or office. Share with your members and download now!
NEW Core Module Infographic
Download this infographic for a visual overview of the Core Module component of the CPC Program.
CPC Program Brochure
The downloadable CPC Program brochure offers a clear, straightforward overview of the CPC Program's components and timeline. Add this to your state association website!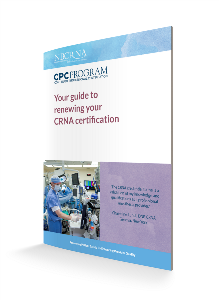 Class B Activities Table
Mission trips, precepting, research, and more. Many of your members are already participating in professional development activities that can count as Class B credit. Download and share the Class B Activities Table with your members to provide them with a complete listing of all categories of Class B credits with examples and needed documentation to claim credit.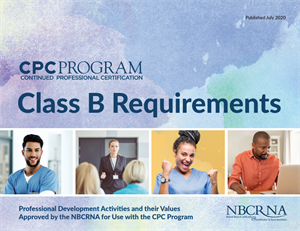 CPC Infographic
The NEW CPC Infographic provides a simple checklist to learn more about what CRNAs need for this first CPC cycle. Download the checklist and share in your next social post!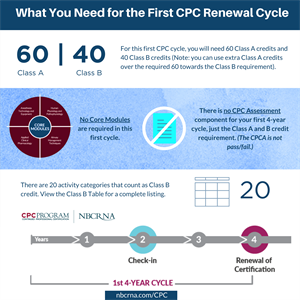 Helpful CPC Links to Add to Your State Association Website
CPC Program Toolkit
FOR CRNAs. This robust toolkit contains a variety of helpful resources to help your members navigate the CPC Program requirements. Copy, paste and share the CPC Toolkit link in your State communications and be your member's top information resource.
NBCRNA Portal Login
It's easy to lose track of time. We know CRNAs are busy. Remind your members that they can log in to the NBCRNA portal anytime to access their personalized CPC Program timeline including milestones and important deadlines, the CPC Certification Renewal Application, and more. Include the link to the NBCRNA portal on your website.
NEW CPC Webpages
To get a more in-depth understanding of the CPC Program, components, and timing, visit the new interactive CPC web pages. There, you'll also see how you can access your personalized CPC timeline.
CPC Program FAQs
View some of the common questions asked about the CPC Program, Certification Renewal, the CPC Assessment, and more. Share the link to the full list of CPC FAQs with your members.
CPC Resources for Your State Communications
---
Need content for your upcoming State Association communications? Use pre-written articles, pre-written social media posts, and more from this State Association Toolkit. Browse and choose from informative CPC Program and other content to use on your state's upcoming social media updates, website or newsletter. Click below to copy, paste and share ready to use copy and FAQs. Also download one of our logos to use with the content.
Click below to download and share these ready-to-go CPC posts on your state association's social media platforms such as Facebook or Instagram.
Need a CPC Speaker? CPC Program Webinar Presentations
---
Request a CPC Speaker
Did you know that CRNAs in your state are eligible to earn Class A credit by attending a CPC Program presentation? Last year, the NBCRNA speakers--provided to state associations at no cost--delivered 24 live presentations to more than 4,000 CRNAs in 18 states either in-person and in webinar formats. Due to social distancing in 2020, many State Association meetings have been cancelled or postponed but the NBCRNA is continuing to offer live webinar presentations to educate and answer CRNA questions on the CPC Program.
Request a complimentary CPC Program speaker to attend your next State Meeting or to conduct a live webinar presentation and announce this opportunity on your website or in your next newsletter. Invite your current and future members to attend! To request a speaker click here.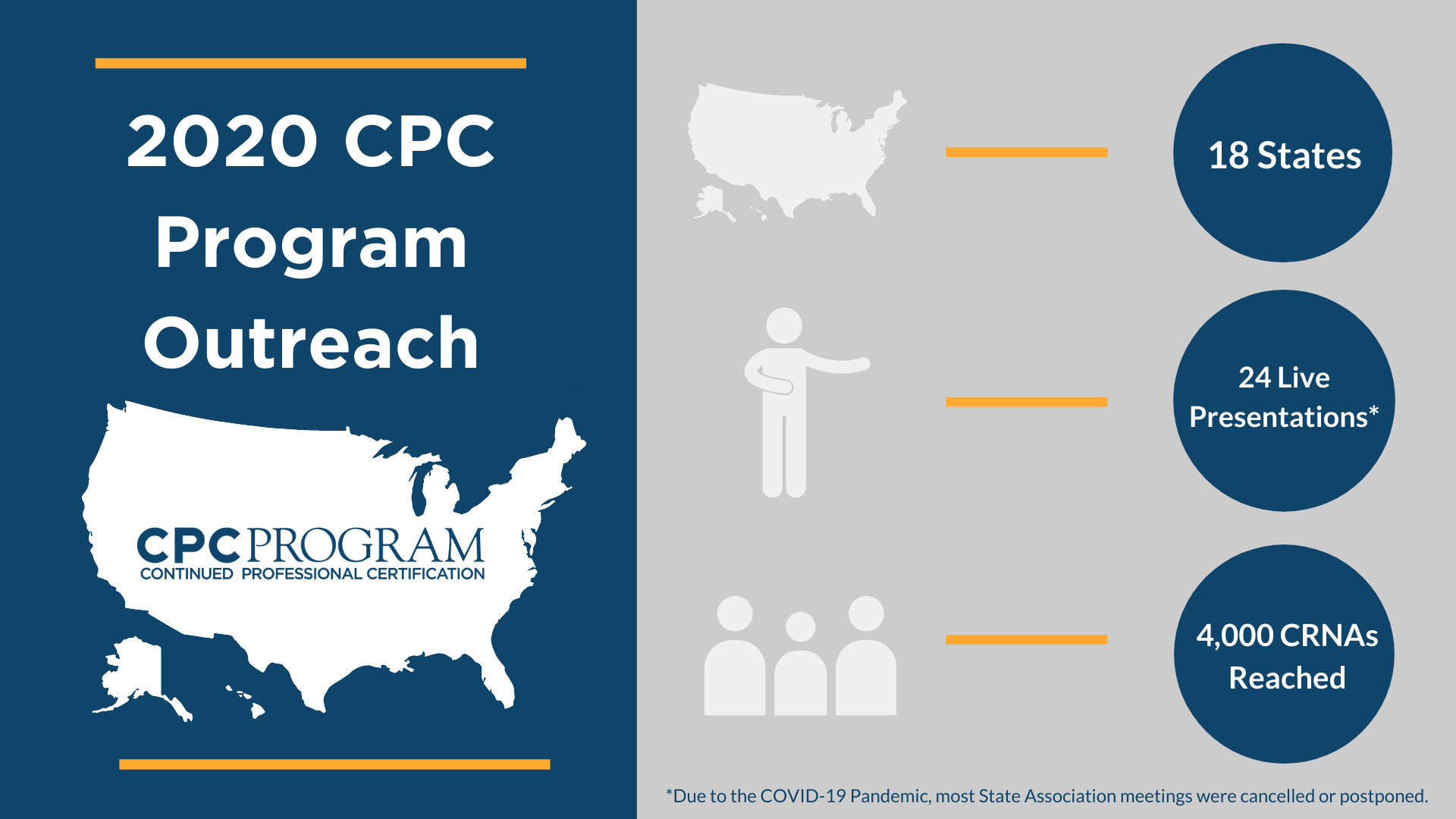 Video: CPC Program Live Webinar Recording
This CPC Program webinar was presented LIVE on January 9, 2020 to the UC Irvine Health group. We can provide a CPC Program speaker or arrange a webinar for your event or group meeting. Visit nbcrna.com/CPCSpeaker. See More at our Youtube channel!
Quick Links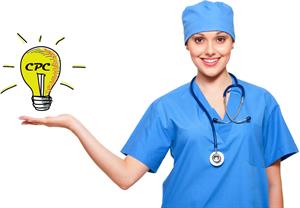 Download the NBCRNA logo or the CPC Program logo and pair with one of our articles, social media posts or FAQs.


Share this 4-Minute CPC Program Overview Video!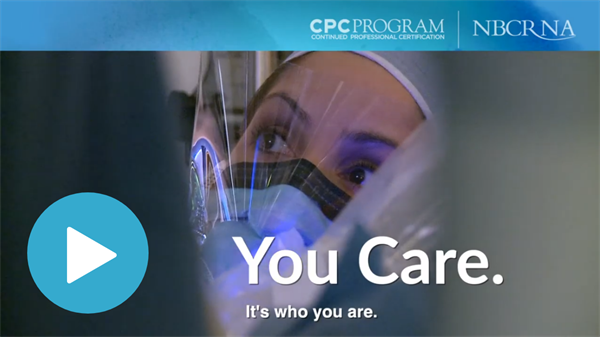 From in-depth coverage of the CPC Program, to How I Earn Class B testimonials from fellow CRNAs, the NBCRNA YouTube Channel offers a variety of engaging videos for CRNAs, SRNAs, and the public. Included here are some popular videos, but we encourage all CRNAs to subscribe to our YouTube Channel to peruse all our videos stay up-to-date on new ones.
3-Minute Guide to the CPC Program Fundamentals
This short animation provides an overview of the key concepts of the CPC Program. It reviews some of the history of the changes to the NBCRNA's recertification program and outlines the components.