Quick Links
Working Together to Inform Your Constituents
---
Welcome, State Associations! The NBCRNA recognizes the important role you play in connecting your state's CRNAs with each other and with the broader nurse anesthesia community, sharing valuable information related to their practice. We have developed this State Association Toolkit page to provide valuable content for your members and resources to help them navigate the Continued Professional Certification (CPC) Program. As a statewide professional organization, you are the home to thousands of Certified Registered Nurse Anesthetists (CRNAs) and rely on active participation from your CRNA members, growing your membership base year over year. One of the easiest ways to continue increasing your membership base is by providing your members with quick, easy, informative resources needed to maintain their credential and practice as competent healthcare providers.
Be the go-to resource for your state association members.
Especially in these unprecedented times, your state association has an opportunity to become an even more valuable resource for your members who are looking for relevant information on what's happening in your state and profession that impacts them. Increase your value to your members by being their one-stop source. The NBCRNA has developed the the Continued Professional Certification (CPC) State Association Toolkit which provides resources and materials to assist the practicing CRNA throughout their journey of seeking lifelong learning, enhancing patient safety and maintaining his/her credential. The toolkit includes:
Videos – Add links to these CPC videos which offer a clearer understanding of every aspect of the CPC Program
Downloads – (brochures, etc.) Add these to your website for your members to reference or print
Pre-written articles – Need an article for your newsletter, website or blog? Use these!
Social media posts – Keep your social media fresh and relevant with these posts
Logos – NBCRNA and CPC Program logos
Read below for more and link them to your state association website!
Use these ready-to-use resources directly on your: Website, Newsletters, Mailings, and Social Media and other digital communications to easily provide your members with accurate, easy-to-understand information about the CPC Program so they can confidently know their steps in the CPC Program, engage in lifelong learning, enhancing patient safety and maintaining their credential.
Continued Professional Certification (CPC) Program
---
Each of your members are enrolled in the Continued Professional Certification (CPC) Program which provides CRNAs with opportunities for professional growth. CRNA Professionals around the United States are recognized as some of the most qualified anesthesia experts in healthcare today and many of them are your members. Members like to stay connected to their State Association to receive the latest information regarding their credential and their career. Get your news from NBCRNA and share with your constituents.

CPC Program and Your Members Next Steps
---
The certification renewal application window (formerly "recertification") opened on April 14, 2020 for many of your members. Those who recertified or initially certified in 2016 will be reaching the end of their first four-year CPC Program cycle and will receive notices from the NBCRNA if they are due to renew their certification. At this first renewal, the CRNA will confirm that they have earned 60 Class A and 40 Class B credits. Core Modules are voluntary for this first CPC Program cycle and they will also not need to take the CPC Assessment until their second 4-year CPC cycle. Many CRNAs have expressed uncertainty as to when they are due to complete the certification renewal application and the NBCRNA CPC Program Toolkit will assist them in their journey. Direct your members to the CPC Program Toolkit which houses a variety of resources specifically for them!
CPC Resources and Tools for Your Members
---
Share the complete CPC Program Toolkit with your members. The CPC Program Toolkit is your members one-stop shop for the CPC Program. Or, click below to individually download and share these key resources on your state associations's website, social media or newsletters.
TOOLS AND RESOURCES FOR YOUR MEMBERS – Add to your State Association Website Today!
CPC Resources for Your State Communications
---
Need content for your upcoming State Association communications? Allow the NBCRNA to assist with answering your members questions about the CPC Program by utilizing copy that has been designed specifically for you. Browse and choose from informative CPC Program content to use on your state's upcoming social media updates, website or newsletter. Click below to copy, paste and share ready to go copy including articles, social media posts, and FAQs. Also download one of our logos to pair!


CPC Program Webinar Presentations
---
In FY 2019, the NBCRNA continued its initiative to provide information on the CPC Program to CRNAs at various State Association and vendor meetings across the country. Many State's who have incorporated live CPC Program speakers into their State Meeting agendas have supplied the NBCRNA with exceptionally positive feedback. Overall, the CPC Program outreach initiative carried out real-time information by delivering 60 live presentations to more than 7,000 CRNAs in 34 states and presentations were delivered via in-person and webinar formats. Due to social distancing, many State Association meetings have been cancelled or postponed but the NBCRNA is continuing to offer live webinar presentations to educate and answer CRNA questions on the CPC Program.
Did you know that CRNAs in your State are eligible to earn Class A credit by attending a CPC Program Presentation? Request a complimentary CPC Program speaker to attend your next State Meeting or to conduct a Webinar presentation and announce this opportunity on your website or in your next newsletter. Invite your current and future members to attend!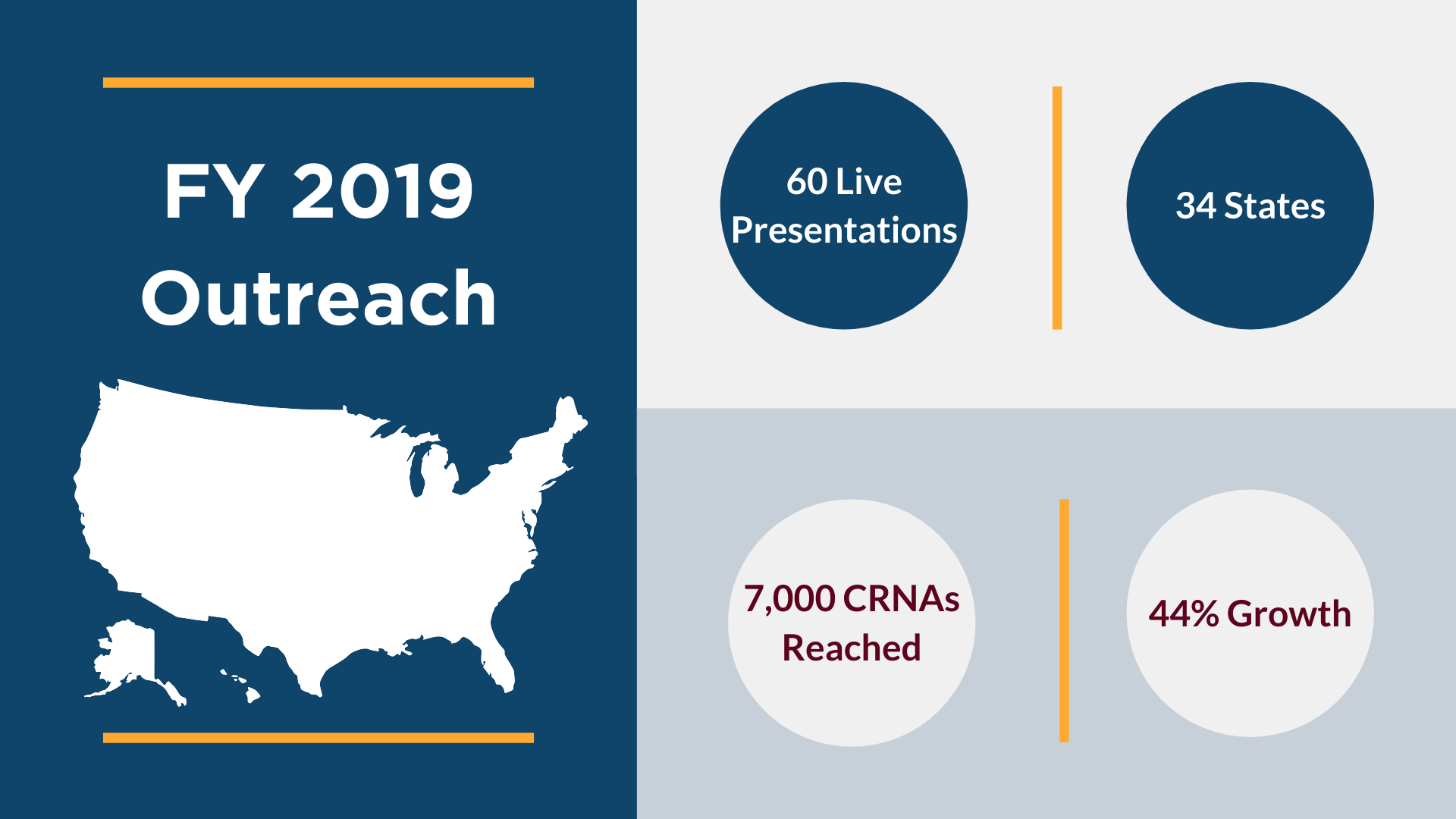 Video: CPC Program Live Webinar Recording
This CPC Program webinar was presented LIVE on January 9, 2020 to the UC Irvine Health group. We can provide a CPC Program speaker or arrange a webinar for your event or group meeting. Visit nbcrna.com/CPCSpeaker. See More at our Youtube channel!
State Association Newsletters
---
Click below to view the latest editions of the State Association Newsletter.
3-Minute Guide to the CPC Program Fundamentals
This short animation provides an overview of the key concepts of the CPC Program. It reviews some of the history of the changes to the NBCRNA's recertification program and outlines the components.