NBCRNA Focus on Research
July 2021: Just published in Journal of Nursing Regulation - Benchmarking Study on Continuing Certification in Healthcare and Allied Health Fields: Program Variables, Commonalities, and Trends. Read here.
--------------------------------------------------------------------
The NBCRNA understands that research and technologies will continue to impact your CRNA practice in various ways over the coming years. Through the work of the NBCRNA Evaluation and Research Advisory Committee (ERAC), the NBCRNA is leveraging today's technologies and research to continue to develop the evaluation of the current NBCRNA credentialing programs, and investigation of the question: What are optimal* ways to assess and  maintain knowledge needed for initial and  continued board certification over time in CRNA  practice?
To focus on this, the ERAC and five subsequent subcommittees, comprised of subject-matter experts, have been established and are working on various research projects and initiatives. Visit the other pages in this Research section to find out more about the studies, resources, and activities of the NBCRNA.
*evidence-based, valid, reliable, feasible, desirable, and viable
---
2021 Visiting Research Fellow Named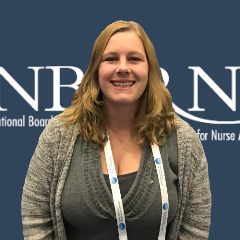 The NBCRNA welcomes Natalie Meyers, PhD, CRNA, as the 2021 Visiting Research Fellow. Dr. Meyers joins current 2020 Visiting Research Fellow Nicole Hymel, DNP, CRNA, MSN, APRN. Read more on the ERAC Committee page.
Quick Links