CRNAs are highly motivated and love to challenge themselves. To build on this self-driven nature and promote a culture of lifelong learning, the NBCRNA has undergone a comprehensive process and has developed an online, interactive practice exam, CPCE Practice. CPCE Practice will engage nurse anesthetists, help assess knowledge, and help identify knowledge gaps. You may find it helpful to reference this information when selecting future CE topics for maximum efficiency. CPCE Practice takes the CRNA through 40 questions covering the four core domains of anesthesia practice* and can be taken up to three times over the course of a year. You can earn two Class A credits by achieving an 80% score within three attempts. And, when you've completed the CE portion or the third attempt, you'll have access to all 80 questions in the question bank for a year from the date of purchase. CPCE Practice will provide personalized feedback which includes a standard score report with results by domain, with the percentage correct, complete with correct answer rationales, and gives CRNAs the opportunity to become familiar with question types, formats, and content of an online exam, while gaining test-taking confidence and earning two Class A credits. CPCE Practice is being offered for $30, and a 20-question sample exam, Quick20, is available at no charge.


Get test-taking confidence and insights with CPCE Practice!

Be familiar with types of questions that will appear on the CPC Examination.
Identify points of knowledge on the CPCE content outline that may require additional study.
Give examples of how the CPCE content outline maps onto points of clinical practice knowledge.
Take a computerized multiple-choice/multi-select exam online.​​​
*Note: The program (CPCE Practice) has been prior approved by the American Association of Nurse Anesthetists for two Class A CE credits; Code Number 1033196; Expiration Date 9/30/19.​ No CE is available for Quick20.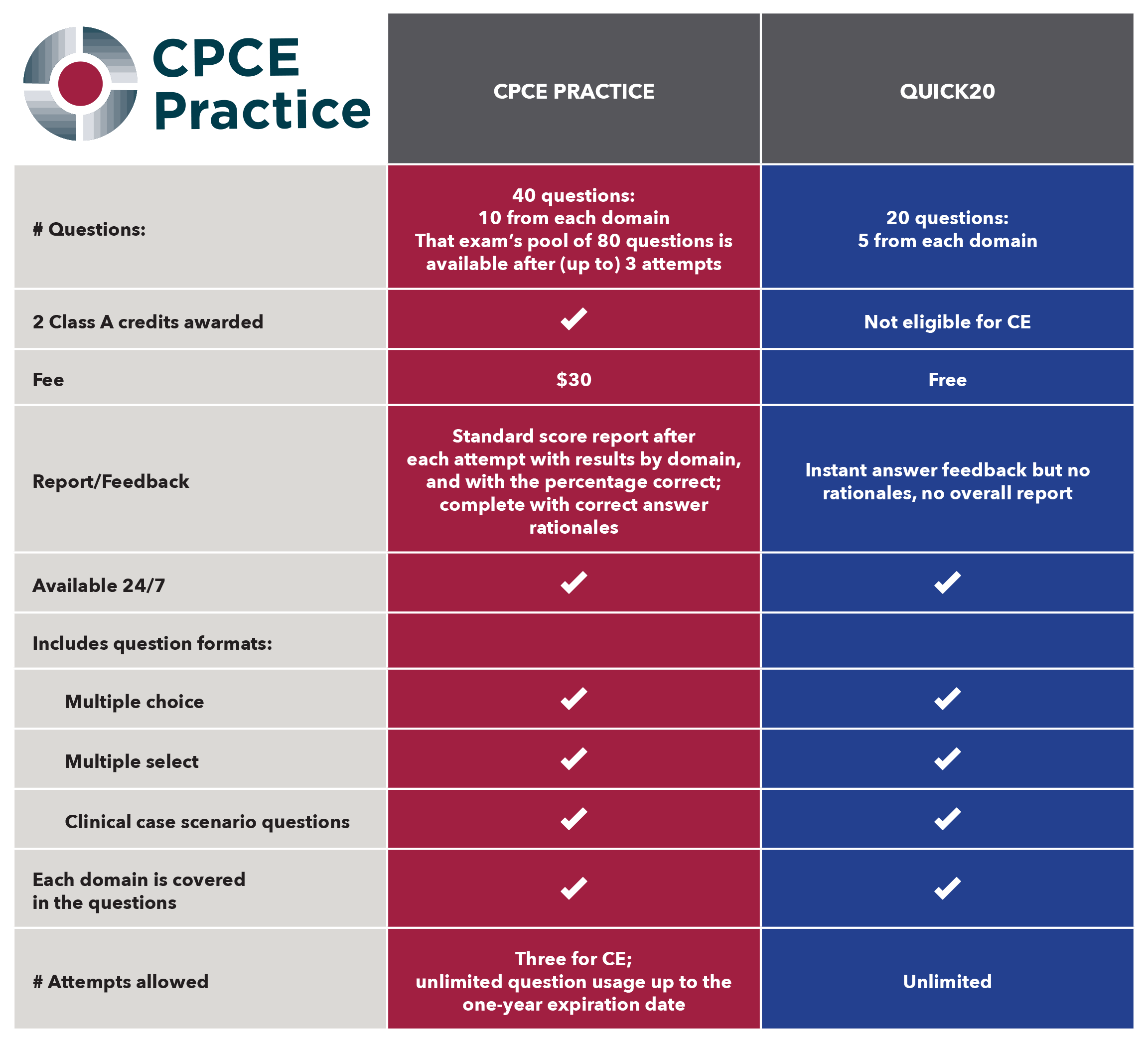 *Core domains of anesthesia practice which apply to all CRNAs, regardless of practice focus: Airway Management; Applied Clinical Pharmacology; Human Physiology and Pathophysiology; and Anesthesia Equipment and Technology.