The NBCRNA was created in recognition of the importance the nurse anesthetist profession places on patient safety. Our primary responsibility is to guard the well-being of the public by seeking to ensure that nurse anesthetists have the necessary knowledge and skills to practice safely and effectively. In so doing, we also protect the value of the CRNA credential. A rigorous national entry process helps assure that those who secure the CRNA credential enter the profession with the knowledge and demonstrated skills necessary to practice, however this is only the first step. Those who earn the credential dedicate themselves to lifelong learning, which ensures continued competence in the specialty.

The recertification process developed by the NBCRNA involves a robust and regular assessment of nurse anesthetist professional practice. The NBCRNA regularly assesses the evolving knowledge required in anesthesia health care practice. Our certification and recertification programs meet or exceed the expectations of patients and family members, the requirements of employers, and the demands of regulatory authorities to verify that nurse anesthetists continue to be recognized as providing the safest and best anesthesia care possible. The NBCRNA's autonomy enables us to be objective and credible, and ensures that the integrity of the CRNA credential cannot be questioned.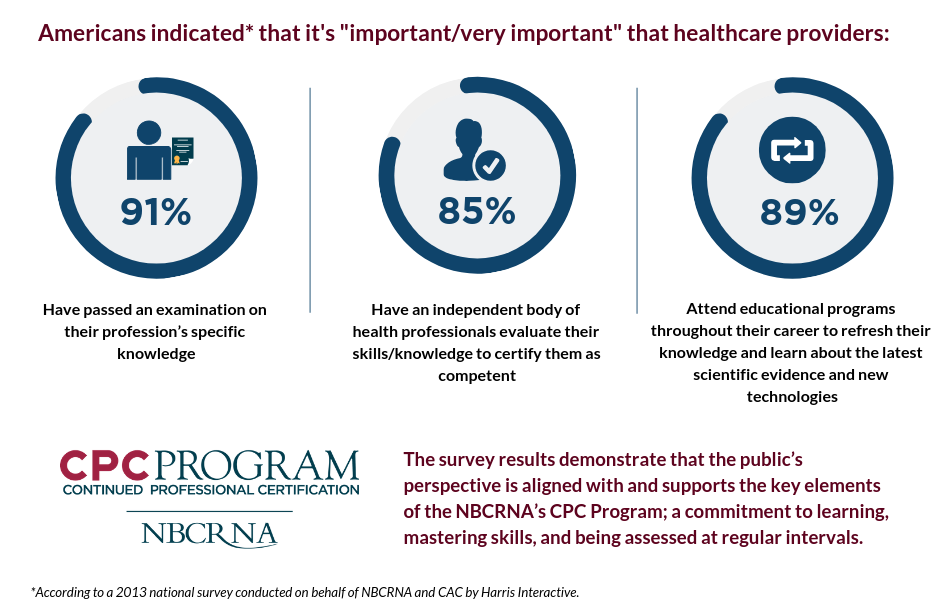 CRNA certification creates undeniable value as evidenced by:
Patients, employers, and regulators recognize that the CRNA credential stands for quality and competence in nurse anesthesia practice, creating numerous opportunities in various practice settings in an ever-changing and evolving health care environment.
The high standards for achieving and maintaining the CRNA credential rightly instill confidence among certificants in their professional ability to provide safe, individualized care to the patients they serve.
Dedication to high standards in certification and recertification is reflected in the NBCRNA's commitment to ensure that competency evolves consistent with advances in technology and the increasing complexities of patient care. This dedication benefits both patients and nurse anesthetists. Evidence confirms that care provided by nurse anesthetists is of equivalent quality to that provided by physician anesthesia providers. This enviable safety record has led to increasing numbers of opportunities for nurse anesthetists to work independently and has been recognized in lower malpractice premiums.
Nurse anesthetists can take justifiable pride in the history and success of their profession. NBCRNA's unwavering focus on patient safety honors that tradition and will continue to protect the value of the CRNA credential.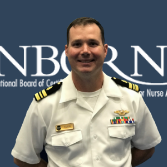 The CRNA credential means the privilege to provide world class autonomous anesthesia care to injured service members near the point of injury to ensure they return home to their families. Read More