Spotlight 15
Oct 4, 2018, 08:13 AM
Display title :
What does the CRNA credential mean to you?
Monica Paz Cruz, CRNA
Assistant Director Nurse Anesthesia Program
University of Puerto Rico
A CRNA is a highly qualified, competent nurse with clinical training based on the best evidence. It's a professional with critical thinking and leadership skills that provide the best quality of care to a culturally diverse society.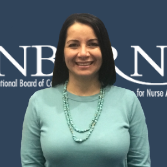 2-year Check-in Spotlights